About the Maserati Ghibli
For starters, the Maserati Ghibli is the smaller of the two Maserati models in question. That small size means that it offers more nimble handling, so if you're looking to get outside of Oakland and carve up some mountain curves, the Ghibli will be a great vehicle for doing so. The new Maserati Ghibli also comes with a pair of Ferrari-tuned engines, starting with the 3.0-liter turbocharged V6 that delivers 345 horsepower and 369 pound-feet of torque through the rear wheels. Pittsburg, CA drivers will also have the opportunity to jump into the Ghibli S, which uses a twin-turbo 3.0-liter V6 to develop 424 horsepower and 428 pound-feet of torque that are sure to thrill. This engine also gives you the option to add intelligent all-wheel drive to your powertrain, for improved acceleration and handling when you really want to push your limits.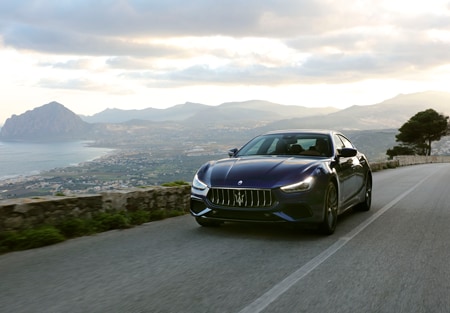 Inside, the Maserati Ghibli gives you a wealth of premium features such as 12-way power-adjustable front seats that can be both heated and ventilated. Hand-stitched details, premium leather upholstery, and real wood inlays come together to give you a true sense of opulence, and the four-door setup offers comfortable seating for four when you want to bring a few friends along for the ride.
About the Maserati Quattroporte
The Maserati Quattroporte is probably the most well-known model in the Maserati lineup, and for good reason. As the more high-end of the two models, the Quattroporte delivers both an upscale interior and greater performance options to enhance your driving experience in ways you never though possible.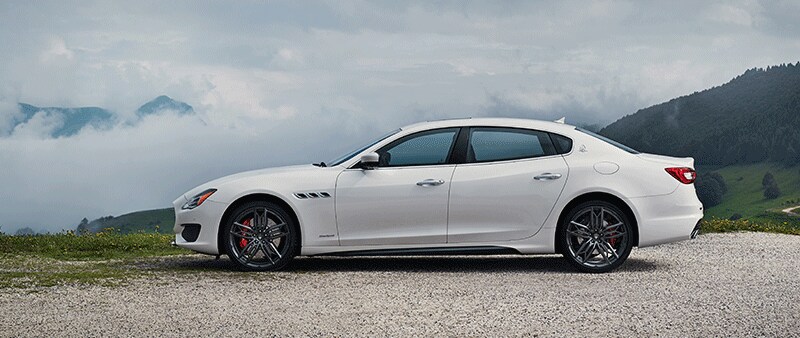 It starts with the same twin-turbocharged V6 engine as the Ghibli, meaning that the same 424 horsepower and 428 pound-feet of torque will be responsible for carrying more weight. As a result, this version of the Quattoporte feels a bit sluggish compared to its smaller cousin, but an optional turbocharged V8 will give you the power boost you need to overcome that difference. That model, known as the Quattroporte GTS, delivers 523 horsepower and 524 pound-feet of torque through the rear wheels for a truly exhilarating driving experience.
Inside, the Quattroporte gives you just a few extra luxury touches such as auto-dimming and heated side mirrors and a sunroof that is sure to add some ambiance to your daily travels. Power rear side sunblinds are perfect for those super bright days when it feels like the sun is always beating down on your interior. Ambient interior lighting sets off the cabin at night, offering a gentle glow to add an extra touch of class to those romantic evening drives.
Heated and ventilated seats are standard on the Quattroporte GTS, so adding that extra layer of comfort to your daily drives is a given when you choose this model. You can even enjoy a heated steering wheel for some extra opulence, while power adjustable foot pedals allow you to perfectly tailor your driving experience for the ultimate comfort.
Visit Our Dealership Today!
There truly isn't much separating the Maserati Ghibli and Maserati Quattroporte, it is simply a matter of which driving experience speaks to your sensibilities. Visit our Livermore dealership and take both for a test drive today!